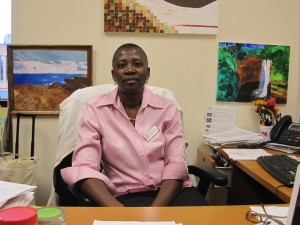 What is your role with Mason Dining and on the Mason campus?
Lois Durant meets with students to help make sure that they can get the food they want and need on campus. She works with health services to create a meal pattern for students with medical condition like celiacs disease or gastroporesis, eating disorders, vegans and vegetarians, and those just wanting to lose weight or eat healthier.
What made you interested in food and why did you decide to become a dietian?
Durant originally went to college hoping to major in Music. She soon found herself drawn to home economics particularly food and cooking. After teaching for around 5 years she decided to go back to college and became a registered dietitian.
What was the food like where you went to college?
Durant went to Winthrop College (now Winthrop University) in South Carolina. The campus of about 5000 students was catered to by one cafeteria that was open from around 7am until 8pm. Mason, she says, has a lot more food choices and much longer hours of operation even compared to other universities today.
Where do you eat on the Mason campus?
Durant mostly eats at Southside since her office is just below it, but likes the new Hotspot and tries to try out all the locations often so she can give students the best advice.
What's your favorite healthy thing to get at Southside?
Stirfry from the Worldatarian station.
What's your favorite unhealthy thing to get at Southside?
French Fries
How involved are you in what restaurants come to campus?
There is a lot that goes into deciding which restaurants come to campus. Recently, Durant has been working with one of Mason's marketing professionals to make sure that Mason Dining looks at what healthy options the vendor will bring and whether they will release their nutrition information.
How does Mason dining cater for students with food allergies and those who have are vegan or vegetarian?
Whatever options Mason students what and need Mason Dining will work to bring to campus locations.
What do you think about diets?
Durant believes the reason why the person is choosing to diet is the key. If watching what food you eat is just t
o lead a healthier life then it's fine but often diets stem from body image and other bigger issues.
What do you see students struggling to get enough of in their diet?
Students in general struggle to get enough Calcium, vitamin D and Potassium. To get more of these she suggests eating milk, cheese and other enriched products like Soy Milk, Tofu, dried beans and orange juice.
What are students eating too much of?
Students are definitely eating too much sugar. An easy way to cut down on sugar is by watching the amount of drinks you have that aren't water, like soft drink or energy drinks.
Do college students drink too much coffee? How should we get our energy?
Students probably do consume a lot of caffeine whether in the form of coffee or energy drinks. The only real way to recover is to get more sleep as there are certain things our bodies can only do at night. And make sure you are eating enough, and all the colors of vegetables and fruits.
College students have very varied schedules, how important is it to get in 3 meals a day?
Durant says students should eat three meals and maybe even a couple of snacks, but don't go over your calorie needs. Breakfast was considered the most important meal of the day when she was growing up and it still is, so start the day right.
Check out this video of Lois Durant's five tips for eating healthy at Mason.