GMU Chew Review: 3.99 out of 5 forks
Hours of operation
11 a.m. to 10 p.m. Monday through Thursday.
11 a.m. to 9 p.m. Friday.
4 p.m. to 11 p.m. Saturday.
4 p.m. to 9 p.m. Sunday.
The Rathskeller or the Rat is Mason's sports bar located in the bottom of Student Union Building 1. Dining options include burgers and other typical American fare. It is the only place in the center of campus that you can grab a beer – after class of course. Featuring multiple TV screens to watch all the sports on offer and one large central screen for the big game. The Rat is also fitted with the Akoo music system so you can pick what you listen to while you eat.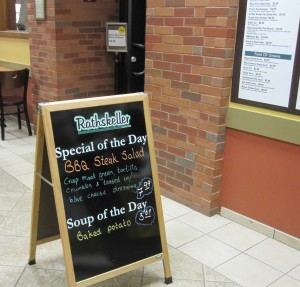 Menu Items
Burgers
Curly Fries
Pasta