GMU Chew Review:3.83 out of 5 forks
Hours of operation
8 a.m. to 9 p.m. Monday through Thursday.
8a.m. to 3p.m. Friday.
Chick-Fil-A is an on campus off campus favorite. Located on the bottom floor of Student Union Building 1 it is known for it's waffle fries and breaded chicken.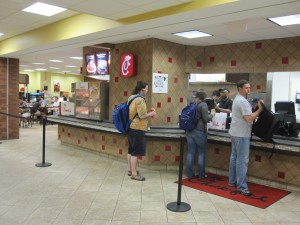 Menu Items
Waffle Fries
Chicken Sandwiches
Chicken Pieces
Lemonade
Ice Tea
Breakfast Biscuits
Check out the full Chick-Fil-A menu here.